Management Consulting tops all industries for UK Graduate Salaries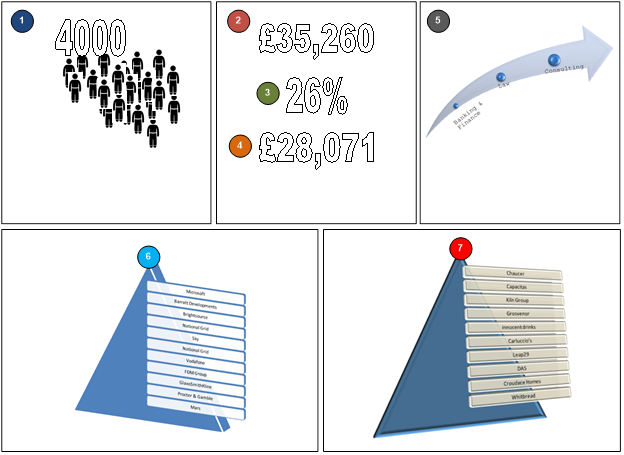 Graduates in their first three years of employment were asked to score their company on a range of criteria including training, career progression, responsibility levels, work-life balance and benefits.
The results were surprising as management consulting performed better than the traditional top leaders (law, medicine and banking). Not only did the consulting industry top the list for salary it also scored very highly for career progression (2nd) and responsibility (3rd).
Over 4000 graduated took part in the survey[1]
The average UK starting salary reported by graduates in the Consultancy
% by which the consultancy sector graduate salary is above the average reported across all graduate roles
The average salary reported across all graduate roles
Ranking of the three best paid industry sectors for graduate salaries
Top 10 from the Large Cap Companies
Top 10 from the Small Cap Companies
[1] According to the latest annual graduate survey conducted by TheJobCrowd published on 04-Nov-2013
The results paint a very positive image of working within the consulting industry and are likely to tempt more graduates into exploring careers in this sector in future. Newton Europe topped the list of Top Consulting Companies and came 11th overall in the Top 100 Graduate Employers. Other companies in the Top 100 include Bain & Company, Capgemini and PA Consulting Group. In total, seven consulting companies made the list of Top 100 companies.
Graduates working for consulting companies reported earning higher starting salaries than any other industry in TheJobCrowd's survey. This of course can be a significant point of attraction for many new graduates and when you combine this with strong ratings for the sector in other fields as well, it is very compelling.